Our Blog
"All In: The Fight for Democracy" – A Film Review
I know you are not used to my blog posts including a movie review. There's a good reason for this new addition – democracy is on the ballot and Amazon Prime has released an excellent documentary that all voters should view as a primer on voter suppression "All In: The Fight for Democracy".
The focus of the movie is the appalling voter suppression event known as the gubernatorial election in Georgia in 2018 in which Stacey Abrams (poised to become the nation's first African-American female governor) "lost" to Brian Kemp by "55,000 votes".  Clearly, the purging without notice from the voter rolls of 340,000 people and the blocking of approximately 40,000 African-American voters from registering due to insignificant administrative discrepancies were in-your-face acts of voter suppression.  Worse yet, the person in charge of those heinous actions was Ms. Abrams' opponent, Brian Kemp, who was the sitting Georgia Secretary of State and chief elections officer.
The film goes well beyond that one shameful "election" and traces the nation's history of voter suppression in vivid detail from the poll taxes of literacy for Southern Black voters to the modern Jim Crow methods of overly strict ID, poll closings in predominately Black neighborhoods and laws involving impossible address requirements for Native Americans living on reservations without designated street addresses.
Stacey Abrams, despite being victimized by a stacked system hundreds of years in the making, still offers us hope and resolve.  We learn about her determined response to the 2018 election, founding Fair Fight, a group fighting voter suppression on the ground and in the courts.
This important documentary parallels experiences I have seen in my many years at the polls and in the courts fighting voter suppression against Black and Brown people throughout the country. I chronicle those journeys in my new book, Voting: The Ultimate Act of Resistance.
I highly recommend this very timely movie. Then do your part and VOTE EARLY. VOTE NOW.
Covid19 Is Still Very Much A Threat To Our Lives – Continue Your Cautious Behavior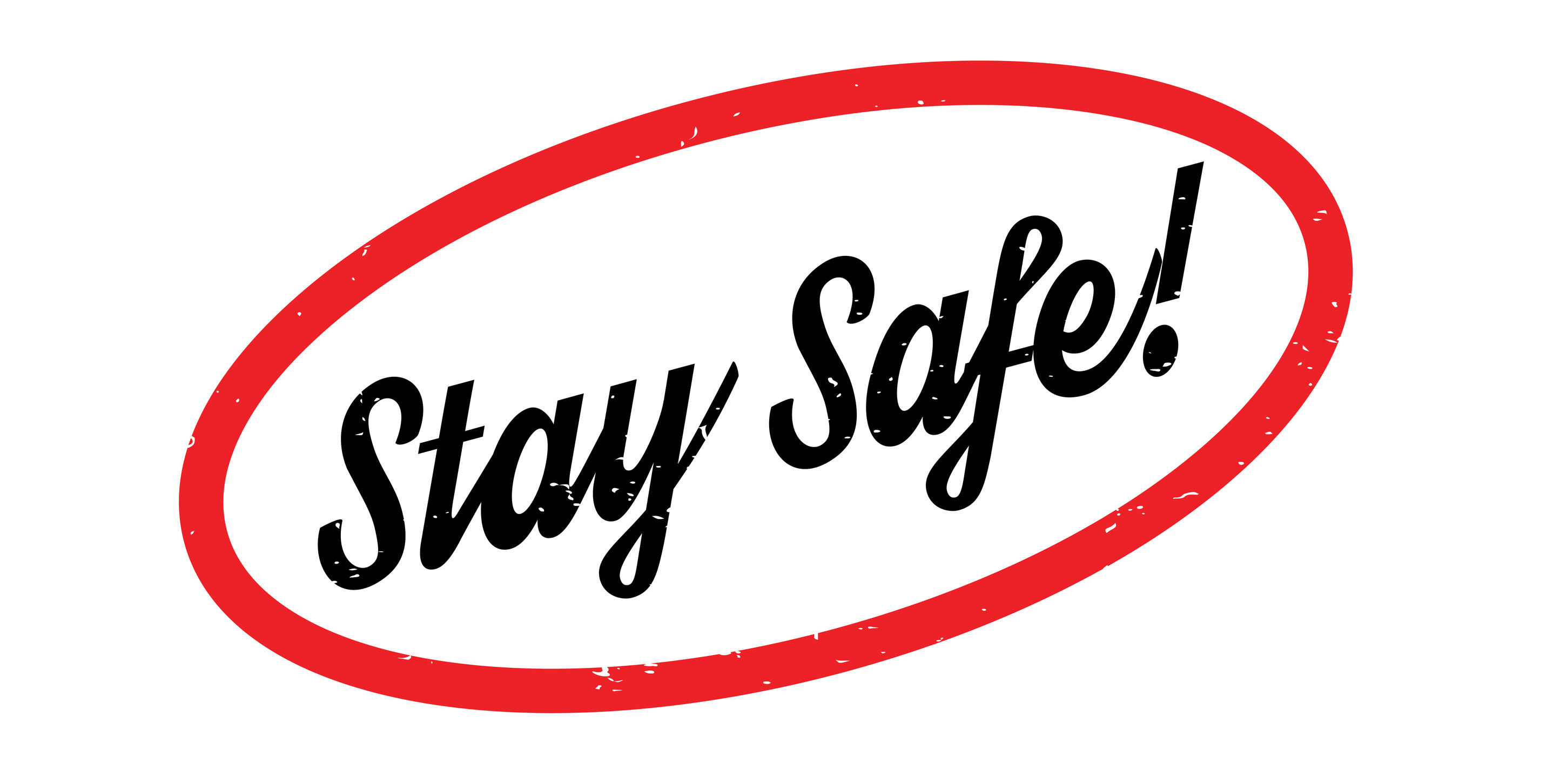 This post is unrelated to my usual topics of personal injury/medical malpractice/civil rights/voting rights law.  Today is just a reminder to all of us about the pandemic that still threatens our lives daily.
While New York and New Jersey have done a magnificent job of reducing the number of cases and deaths from Covid19 in the past few months, it is not the time to put our guard down.  Social distancing and masks should be the norm when we leave home, walk on the streets, enter buildings, shop or go to our offices.
Experts expect a second wave of cases likely to spike in the fall season https://abcnews.go.com/Health/americans-brace-2nd-wave-covid-19-experts-predict/story?id=72817318. The highly respected model from the University of Washington Institute for Health Metrics and Evaluation predicts more than 410,000 people could die from Covid19 by January 1, 2021 nationwide. https://www.cnn.com/2020/09/04/health/us-coronavirus-friday/index.html
The two simple acts of social distancing and mask use every time we are in a public setting (any time outside the home) are essential for our health and the well-being of our fellow Americans.  The pandemic is far from over.  Be careful.  Be cautious.  Be respectful of the fact that we all have the ability to save lives – ourselves and others.  Let's continue to do it!
Voting Options For My New York Clients and Friends
You have heard me praise the power of voting many, many times. I even wrote a recent book about it, Voting: The Ultimate Act of Resistance.
Now is crunch time to make sure you are registered, apply for a vote-by-mail ballot if that's your preference and cast your ballot whether in person (early voting is best), by mail or other forms of delivery.  Do not wait another minute to find out your deadlines by going to https://www.vote.org/.
In New York, if you choose to vote-by-mail (you must apply NOW at https://absenteeballot.elections.ny.gov/) then you can return your mail-in ballot as follows:
By mail (do it as soon as you get the ballot and fill it out);
At drop boxes in various locations;
At your County Board of Elections in person: https://1010wins.radio.com/articles/ny-state-voters-can-now-drop-absentee-ballots-at-boe-offices?s=09
At early voting sites from October 24, 2020 – November 1, 2020;
At your polling site on Election Day.
Of course, you still have the option to vote in person at early voting sites from October 24, 2020 to November 1, 2020 as well as on Election Day November 3, 2020 at your neighborhood polling site.
Whichever way you choose to vote, have a plan and do it Early, Early, Early.
RIP RBG – YOU MADE OUR COUNTRY A MORE JUST, FAIR AND EQUAL PLACE
I am deeply saddened by the passing of my legal hero, Ruth Bader Ginsburg.
She is a legend in the fields of women's rights, civil rights and equal rights. Most of all, she believed in expanding rights which is the very core of our democracy (until January 20, 2017). Intellectually, she was a legal scholar but with a full understanding of and empathy for real people. Her written opinions, especially her dissents, are legal works of art. Her soul was as kind as her mind was keen. It is no exaggeration to say she is one of the most important figures of the past half century.
What other justice was a rock star to so many? A very sad day for anyone who loves freedom, equality and civil rights. As an advocate for equal rights for women, she stands with Susan B. Anthony and Eleanor Roosevelt as American legends. Deep condolences to her family at this very sad time. RIP RBG.
Voting – The Ultimate Act of Resistance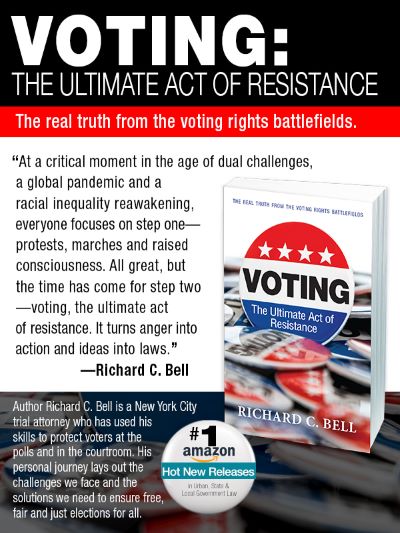 That is the title of my latest book released on August 14, 2020 on Amazon.com.  I am very proud of the message of this book.
At a critical moment in the age of dual challenges of a pandemic and a racial reawakening everyone focuses on step one – protests, marches and raised consciousness.  All great, but the time has come for step two – voting.  That is the ultimate act of resistance.  It turns anger into action and ideas into laws.
For almost two decades I have worked pro bono to fight race-based voter suppression at the polls and in the courtroom throughout the nation.  My book lays out that journey, the obstacles faced mostly by voters of color on Election Day and the solutions we need to ensure free, fair and just elections for all.
Vote Like Your Life Depends On It Because It Does
Everyone is acutely aware of the troubling times we live in. A continuing pandemic. A moment of reckoning on racial injustice. An economic downturn that has been catastrophic for so many workers and small businesses. Potentially catastrophic climate change issues threatening our planet.
The solutions aren't easy but they must be implemented with the right kind of leadership, thoughtful plans and commitment to fairness and equality. It is your choice who to vote for, but it is essential that you vote in November to have your voice heard by electing political leaders at every level to carry out your desires and to protect the future for you and your family.
There are many different ways to vote. No one should have their right to vote taken away from them. MAKE A PLAN TO VOTE NOW. PLAN EARLY. REGISTER EARLY. VOTE EARLY. Find out how to vote in your local area by going to www.vote.org. Go to it today. Not tomorrow. Today. Your life and your family's lives depend on it. Literally!
I have been fighting voter suppression for almost two decades. Don't become a victim of voter suppression.  Do your registration and voting early, early, early to avoid problems. VOTE.
Do Workers Have Rights at the Workplace When They Return During the Covid19 Pandemic?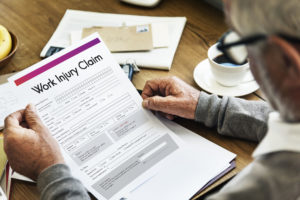 So your workplace has reopened but, of course, the Covid19 pandemic is still with us. What protections do you have at your office, factory, store or other workplace?
In New York there are specific reopening protocols that your employer must follow.  For the most up to date information on those guidelines go to the official New York State website that answers your questions in great detail at www.esd.ny.gov/nyforward-faq.
Your employer is required to follow strict health and safety guidelines and regulations during these perilous times.  Masks, social distancing and screening questionnaires are among the precautions they must take.
When employees' health was at risk recently in Chicago and Oakland, the workers went to court under a seldom used legal theory called the law of "public nuisance".  The State court judge in Chicago ordered those McDonald's franchises to follow protocols for safe practices regarding masks and social distancing (in Chicago) and the judge Oakland ordered the franchise closed until a hearing about the unsafe practices.
In New York, you can file Covid19 related workplace safety complaints with the New York State Department of Labor at:
https://labor.ny.gov/workerprotection/laborstandards/coronavirus-complaints.shtm.
For a more detailed discussion of this topic, you can listen to my radio interviews on the topic on the shows below (also available on my Media Page):
The Chip Franklin Show – July 2, 2020
To find out more information, please call me toll free at (877) CALL-LAW® (225-5529) or (212) 714-0988 for a consultation.
Businesses Should Not Be Immune From Covid19 Liability Lawsuits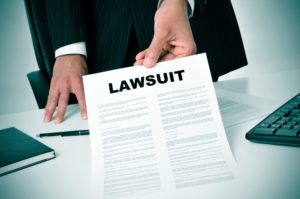 Businesses have lobbied Congress and state legislatures to allow them to be immune from lawsuits relating to Covid19 liability.  That means if a business acts negligently regarding use of masks and social distancing for instance, some lawmakers want them protected from lawsuits.
Businesses already have that protection – JUST FOLLOW THE CDC, STATE AND CITY HEALTH AND SAFETY GUIDELINES REGARDING COVID19.  In addition, it is extremely difficult to prove a Covid19 liability case because not only must you show negligence by the business but you must show the business' negligence caused you to catch Covid19. Outside of confined areas like nursing homes and cruise ships it is virtually impossible to trace your particular case of Covid19 to one source and rule out the source as a friend, family member, the workplace or other businesses.  Short of a major breakout at one business with strict contact tracing data, businesses already have protection from successful Covid19 lawsuits.
I believe this lobbying for liability protection is an old trick by businesses and their insurance companies to limit all kinds of legitimate liability lawsuits in the future.  Negligent conduct should have consequences and that's what lawsuits are – consequences.
Remember, when you start giving protection to wrongdoers you start encouraging wrongdoing.
For a more detailed discussion of this topic, you can listen to me discussing this on the radio and in a digital media article listed below (also available on my Media Page):
 WCCO Radio Minneapolis – Business Liability In the Age of Covid
 CNBC  – "Are businesses in danger of coronavirus lawsuits as they reopen?"
To find out more information, please call me toll free at (877) CALL-LAW® (225-5529) or (212) 714-0988 for a consultation.
Civil Rights, Racial Justice and Police Reform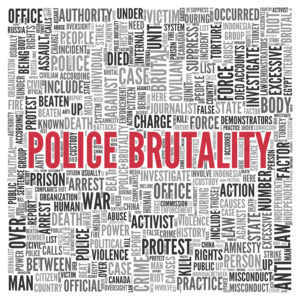 With the tragic killing of Mr. George Floyd, long simmering issues of racial injustice and police reform have predictably bubbled over.  It is clearly a time for reckoning and the law has a major role.
As an attorney who has handled civil rights cases in New York City, I know how devastating the consequences can be for victims of police brutality and false arrests.
I have had the honor of being interviewed on a number of high profile radio shows to discuss these topics and wish to share my thoughts and legal analysis with you. Please listen to these very important topics on the following programs (also available on my Media Page):
The Laura Coates Show
The Talk of Chicago with Perri Small
INSIDE THE ISSUES WITH DR. WILMER LEON on URBAN VIEW – SIRIUSXM RADIO (Part 1)

INSIDE THE ISSUES WITH DR. WILMER LEON on URBAN VIEW – SIRIUSXM RADIO (Part 2)

To find out more information, please call me toll free at (877) CALL-LAW® (225-5529) or (212) 714-0988 for a consultation.
* Prior results cannot and do not guarantee a similar outcome.

This website contains "Attorney Advertising." It is designed for general information only and should not be construed to be formal legal advice. Prior results cannot and do not guarantee a similar outcome. Please contact us by telephone or email. Be advised that using any method of communication to contact us does not create an attorney – client relationship. In order for this office to represent you, we must enter into a written retainer agreement. Simply contacting us does not create an attorney-client relationship. Please do not send any confidential information to this office until after a signed retainer has been entered into by you and this office.