Our Blog
Pedestrians Are at Risk of Injury or Death from Buses and Cars Daily Despite the New 25 mph NYC Speed Limit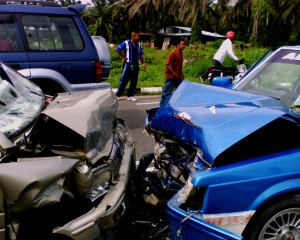 I wrote a blog post a few months ago about the merits of the new 25 mph NYC speed limit (unless otherwise posted) as part of  Mayor DeBlasio's Vision Zero safety initiative.  I still firmly believe it will have good results over the long term, but unfortunately pedestrians continue to presently fall victim to tragic bus accidents and auto accidents.
On February 15th a bus struck and seriously injured a teenager at the intersection of Grand Street and Union Avenue in Williamsburg, Brooklyn. According to WPIX-TV and The Brooklyn Paper, the driver was arrested and charged under a new law that stiffens the penalty for drivers that fail to yield that right of way to pedestrians and strike them.  This arrest may well be a response to the Mayor's Vision Zero program which set a goal of 2024 to reduce traffic fatalities to zero.
Unfortunately, while the Vision Zero program makes incremental strides, pedestrian injuries continue to be reported.  Very recently, 63 year old Sun- Hee Kwak was struck by a gray Suburban and left  bleeding in critical condition in the street as the driver, according to the New York Daily News, fled the scene.  The news report noted that a good Samaritan, Dave Maraj of Richmond Hill, Queens, happened upon the victim and stopped traffic.  How sad it is that some reckless driver not only struck the woman, but did not have the human decency to stop and call 911.  This behavior is another reason that stronger enforcement and penalties for leaving the scene of an accident must be an integral part of the efforts to reduce pedestrian injuries and deaths.
To learn more about your rights if you or a loved one were injured as a pedestrian by a bus or automobile, please call me toll free at (877) CALL-LAW® (225-5529) or (212) 714-0988
* Prior results cannot and do not guarantee a similar outcome.

This website contains "Attorney Advertising." It is designed for general information only and should not be construed to be formal legal advice. Prior results cannot and do not guarantee a similar outcome. Please contact us by telephone or email. Be advised that using any method of communication to contact us does not create an attorney – client relationship. In order for this office to represent you, we must enter into a written retainer agreement. Simply contacting us does not create an attorney-client relationship. Please do not send any confidential information to this office until after a signed retainer has been entered into by you and this office.