Our Blog
Voting – The Ultimate Act of Resistance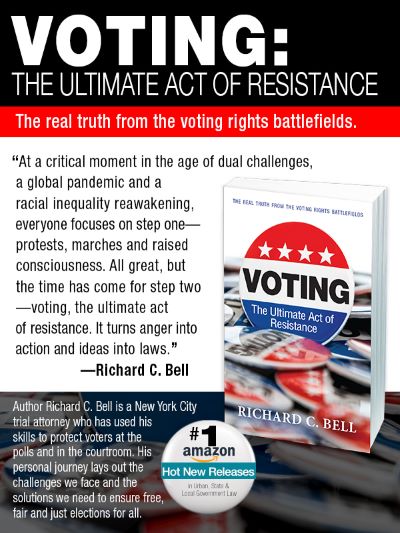 That is the title of my latest book released on August 14, 2020 on Amazon.com.  I am very proud of the message of this book.
At a critical moment in the age of dual challenges of a pandemic and a racial reawakening everyone focuses on step one – protests, marches and raised consciousness.  All great, but the time has come for step two – voting.  That is the ultimate act of resistance.  It turns anger into action and ideas into laws.
For almost two decades I have worked pro bono to fight race-based voter suppression at the polls and in the courtroom throughout the nation.  My book lays out that journey, the obstacles faced mostly by voters of color on Election Day and the solutions we need to ensure free, fair and just elections for all.
* Prior results cannot and do not guarantee a similar outcome.

This website contains "Attorney Advertising." It is designed for general information only and should not be construed to be formal legal advice. Prior results cannot and do not guarantee a similar outcome. Please contact us by telephone or email. Be advised that using any method of communication to contact us does not create an attorney – client relationship. In order for this office to represent you, we must enter into a written retainer agreement. Simply contacting us does not create an attorney-client relationship. Please do not send any confidential information to this office until after a signed retainer has been entered into by you and this office.